Considering that virtual reality has always been evolving, VR headsets have become more and more accessible thanks to their ease of use and to their affordable and accessible prices. Today, we are facing an exhaustive list of VR headsets and we do understand that it feels a bit confusing when it comes to deciding which VR headset to buy.
Throughout this article, we will present you the 5 best VR headsets in 2020 and towards the end of this comparison you will have a clearer vision of the virtual reality headsets world.
1-    Oculus Quest 2
Starting with the famous Oculus Quest 2 known as the best virtual reality headset across all categories, this VR headset provides immense improvements to the Oculus Link mode as follows :
-Screen definition: 1832 × 1920 pixels per eye
-Field of view: 110 °
– Detection mode: built-in sensors
-Dimensions: 191.5 x 102 x 142.5 mm
-Price: Accessible and with 100 euros less than its predecessor
Want more freedom and glorious virtual reality that doesn't require a computer to run? The Oculus Quest 2 is the answer ! it is wireless and hassle-free, making it the best standalone VR headset ever.
2-    HTC vive Pro
The HTC Vive Pro is the new version of HTC Vive allowing you to live an immersive gaming experience. unlike the previous one, it is more comfortable and doesn't require a high-performance and powerful machine to function well. This technology is equipped with several characteristics that make it a professional VR headset:
– Screen definition: 1440 x 1600 pixels per eye
– Field of view: 110 degrees
-Audio from Vive Pro: Integrated and detachable headphones
-Dimensions: 249x 108 x 295 mm
-Price : high
Like the Pro, the HTC Vive Pro is primarily intended for industrial areas. Yet, if you have a limited budget and you are looking for the ultimate VR experience then this VR headset is your solution.
3- Oculus Rift S
Oculus Rift S, one of the most comfortable VR headsets, having a very simple and fast initial configuration with improved optical elements such as bright and vibrant colors and reduced grid effect. In addition to its ease of use and ergonomics, Oculus Rift S has several advantages as follows:
– Screen definition: 2.560 x 1.440 pixels
– Field of view: 110 degrees
– Detection methods: integrated sensors
-Dimensions: 275 x 95 x 133 mm
-Price: logical and affordable
This VR headset doesn't have integrated headphones, it's equipped with modest performance mini-speakers only. Nonetheless, if you are not demanding a very good audio sound, then the Oculus Rift S is the most complete virtual reality ecosystem on PC you can ever have.
4- Oculus Go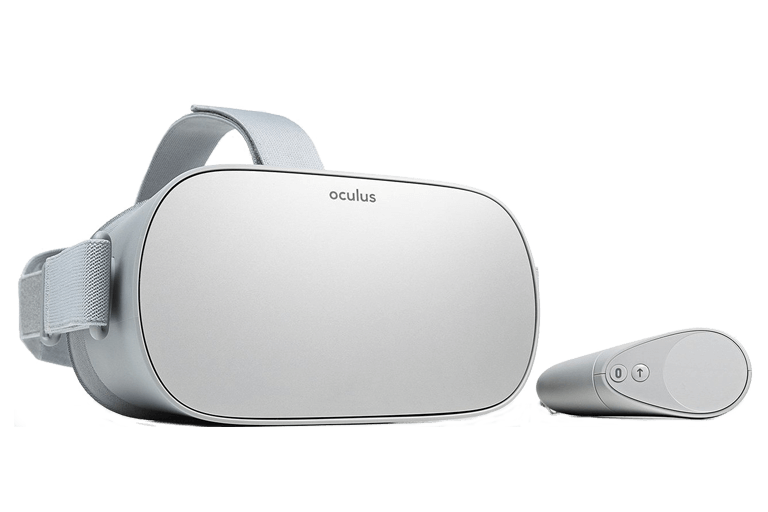 Oculus Go, known as the best accessible virtual reality VR headset, it's easy to use. Plus, thanks to its evolved features, the user's experience is very convincing:
– Screen definition: 2560 x 1440 pixels
– Field of view: 110 degrees
-A follow-up of the position in space
-Dimensions: 190 x 105 mm
On the other hand, this VR headset doesn't offer large storage, which means that it lacks features like significant storage or movement tracking.
5- Sony PlayStation VR
The Sony Playstation VR, Sony's first VR headset compliant with Playstation 4. It is listed as one of the best virtual reality headsets offering a wide variety of games and compatible with several PS4 controllers, this last is also presented with:
-Screen Definition: 1920 x 1080 pixels
-A Field of view: 100 degrees
-A Microphone: integrated
–Dimensions: 187 × 185 × 277 mm
-A Price: reduced
However, this VR headset doesn't offer you an ultimate resolution. Keep in mind that its resolution is not as performant as your computer.